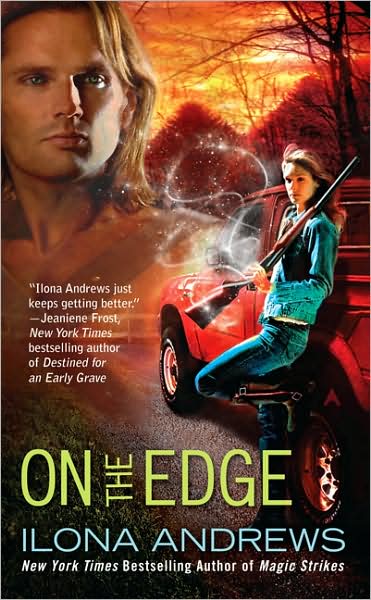 Ilona Andrew's Kate Daniel's series is perhaps my favorite ongoing series right now--it's at least in the top five. That sort of standard was a lot for this book to live up to and...well...
On the Edge
is set in a very different universe. In this world, there is a dimension known as "The Broken", which is essentially our world--no magic, just ordinary people. Then there's "The Weird", where everything runs on magic. Between the two, there's the Edge, land of outcast who don't quite fit anywhere. Here, we meet Rose, an Edger with unusually strong magic. She's been pursued all of her adult life, by men who would sell her or use her to breed magic babies. Rose has two younger brothers to protect, in addition to keeping herself safe. So when Declan shows up on her doorstep, claiming he wants to protect her, Rose is naturally suspicious and hostile...despite her attraction to him.
Positive Comments:
I wasn't that engaged by the large, overarching plot of this novel. Instead, I became fascinated with the minutia of the story. I was interested in the magic Rose possesses and how it works. I wanted to visit more of the Edge and the Weird. I was engaged with what was going on with the kids. Jack and Georgie, Rose's brothers, are a far cry from the useless plot moppets I expected. I was especially impressed with the subplot involving Georgie's ability to bring things back to life, at the expense of his own health.
Declan and Rose...Rose and Declan....They had their moments. The dialogue was great. These two had enough chemistry to justify calling this book a novel with strong romantic elements--though not necessarily a romance novel.
Critical Comment:
So here's the thing...remember that overarching plot I mentioned? My attempt to explain to you, and to myself, why I didn't like it are probably going to be laughable, but here goes:
--Declan shows up on Rose's doorstep and seems to want to marry her or make her his mistress for a thousand wrong reasons. At this point, I'm mad at the book and worried that the two might form a marriage of convenience or some ridiculous thing.
--Rose agrees to give Declan three challenges, and if he succeeds at them, she'll cooperate with him. At this point, I'm intrigued. I figure, okay, he can do these challenges, they can fall in love for real over the course of them, and I'll be happy.
--But guess what? There's a much bigger problem going on, and that problem is monster dogs eating people, and that kind of takes over the book.
I don't think the big monster plot was necessary. I just...I didn't care. I wanted more relationship building, and more character development, and more of the boys and their antics, and more of just about everything else.
Especially
relationship development. I wanted to see more of Rose and Declan together, working out their differences, figuring out where they fit in each others' lives.
Recommendation:
If you like urban fantasy, especially if you enjoy a good monster hunt, you'll enjoy this book. I would recommend it, to a lesser extent, to casual fans of paranormal romance. This book was good, but it didn't have the magic of the Kate Daniels books. 3.5 stars.
Buy from Amazon:
On the Edge