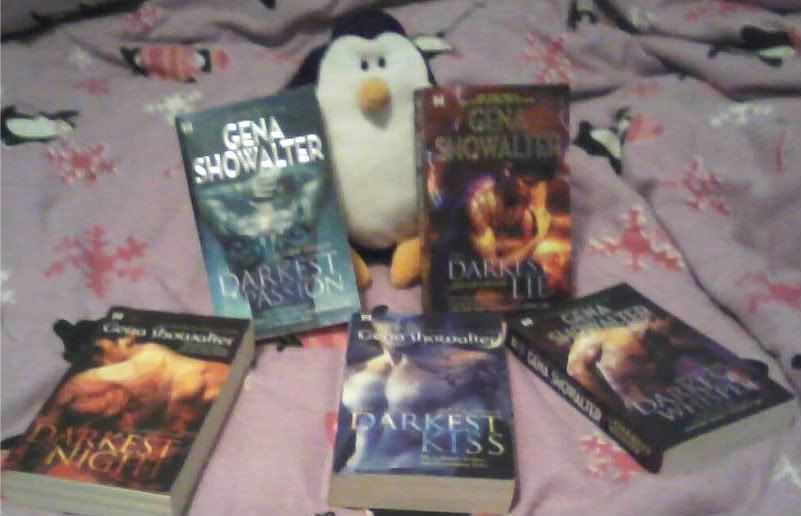 In light of the fact that I'm reading
The Darkest Secret
by Gena Showalter, I wanted to reflect back on what has been kind of a hit or miss series for me. In that spirit, here are my shorthand (and relatively spoiler free) thoughts on the first six books of the Lords of the Underworld series.
The basic premise of the series is that a group of ancient mythic Greek warriors were responsible for the opening of Pandora's box, and as punishment each is cursed with of of the demons from the box.
Book One: The Darkest Night
: (Maddox Keeper of Violence and Ashlyn) I really enjoyed the world building because I love Greek mythology (even somewhat made up Greek mythology). The huge cast of characters made me dizzy and was a big negative for me. The main characters have complex and interesting back stories, but I didn't connect to either of them strongly. The romance was hot but at times felt forced. 3 stars.
Book Two: The Darkest Kiss
:(Lucian Keeper of Death and Anya Goddess of Anarchy) I loved both protagonists: Anya is a pushy, destructive, loveable mess, Lucian is dark and sexy. They're an odd ball couple and it totally worked for me. I liked that the plot had some adventure elements. I felt that the pacing was off, dragging in some places and speeding ahead in others. And yet more characters are added. Oh joy! 4 stars.
Book Three: The Darkest Pleasure
: (Reyes Keeper of Pain and Danika) I was worried about this one, because Reyes is essentially a self mutilator and having had close friends who dealt with that I'm sensitive to how it's handled in books. Showalter does an ok job. I really loved Reyes and Danika, I thought their chemistry was believable and worked well within the story. The plot of this one was very strong and engaging. 4 stars.
Book Four: The Darkest Whisper
: (Sabin Keeper of Doubt and Gwen the Harpy) In this book I found myself more interested in the supporting cast than the protagonists. I liked Sabin fine, he's macho and sexy. Gwen on the other hand comes across as weak and whiny, only improving marginally throughout the book. I also thought the mythology surrounding the harpies was random and contrived. Fortunately the plot is entertaining and the secondary cast, familiar to me by this point, keeps the book together. 4 stars.
Book Five: The Darkest Passion
: (Aeron Keeper of Wrath and Olivia the Angel) I was so excited to see an angel heroine. Olivia was a wimp at first, but she develops a lot. I love her and Aeron together. The plot is complex, interesting, and much better paced than the previous books. I had one major frustration, and that was Legion. I HATED Legion. 3.5 stars.
Book Six: The Darkest Lie
: (Gideon Keeper of Lies and Scarlet Keeper of Nightmares) I was so disappointed in this book. For reasons too spoilery to mention I had trouble connecting with Gideon and Scarlet's story and I ended up doing a lot of skimming. Point of fact, I didn't feel like I absorbed enough of the story to assign it a grade, so instead it's a DNF.
Overall: This is a good series, not great. The cast of characters is irrationally big, but most of them are likeable. There's fantasy and there's violence. The overarching plot is progressing at a snail's pace, but it is progressing. The romance (with the exception of book six) is believable to me. Even after a failed book I've willingly returned to read book seven, a fact which speaks for itself.