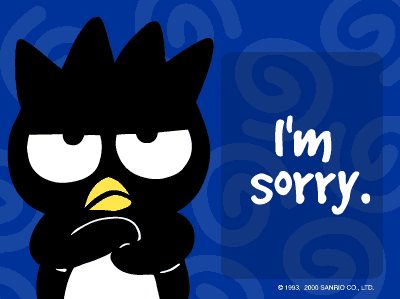 Josh and I have been together for well over six years. A friend of his recently asked him how many times during those six years we broke up and got back together. He was
shocked
to hear the truth--that we've never done that, not once. After a certain point, when it became clear that we had that special
something
that goes beyond puppy love, beyond attraction, and that this relationship was going to be serious, we agreed not to do the break up/make up thing. We wouldn't break up, or "take a break", unless we had exhausted all possibility of fixing our problems.
I've had friends who regularly threatened breaking up, and even followed through a few times. I watched one particular relationship go up in flames, only to be rekindled after a few days, no less than four times over the course of six months. I sense that for some people, the drama of the break up, and the grand gestures that lead to the make up, have a certain addictive quality. It's not necessarily good for the people involved in the long run, but it is addictive.
I guess this is why the second chance romance/relationship in trouble trope exists in the romance novel world. The drama and anger and passion play well in that context. There are two basic ways that these go.
1)
One Or Both of Us Fucked Up. Bad.
So you cheated, or lit the house on fire, brought home an unlicensed pet dragon, or all three at the same time. Your sweetie says enough is enough, and ditches your sorry ass. Now, the way the "second-chance" half of this romance goes, is that the person who screwed up (usually the guy) has to apologize and make some grand gesture, and basically grovel to win the other person back. I've learned from talking to readers and surfing forums that a lot of women
really
dig the grovelling. I can understand that. Any woman who's ever been pissed off understands that.
2)
Circumstances Kept Us Apart.
In this case the dragon came out of freaking nowhere and took one of you away to his cave, or whatever. And you couldn't get away, because it's a freaking dragon, and you couldn't call, because caves don't have phones. And so fifteen or so years go by, and you finally sneak out while the dragon is napping, and find your sweetie. Now the two of you are faced with trying to rebuild an ancient relationship and overcome all sorts of dragon related PTSD.
I tend to buy into the latter variety of second chance romance a lot more. I can understand, and even relate to the idea of external forces keeping a couple separated. This is appealing to me, because at now time in the story do I have to question the feelings between these two people. They love each other, and as soon as they kill that damned dragon, they can be together forever. With the former scenario, I don't fully trust the happy ending because of this pessimistic part of my brain that tells me that if they broke up once, they'll probably do so again. Depending on the type and severity of the screw up, an apology doesn't necessarily fix things. Plus history is often doomed to repeat itself.
Overall, the relationship in trouble trope doesn't appeal to me, because it's usually missing the part of romance novels I enjoy the most--the meet cute. The first meeting and the process of getting to know each other and fall in love give me the warm and fuzzies. But that's just me.
So what do you guys think? Do you find second chance stories romantic, or totally unappealing? Am I a horribly unforgiving reader? Tell us about the second chance stories that you liked (or hated) in the comments.
PS--The aforementioned breakup/makeup friends finally broke up dramatically and somewhat violently, for good this time. She went on to a slightly more steady relationship (still heavy on the drama, but with fewer break ups).
PPS--I apologize for mentioning dragons so many times. I don't know why I'm fixated on them all of the sudden.
Retrieved from http://academiaadventure.blogspot.com/2011/08/baby-dragon.html
Rawr.