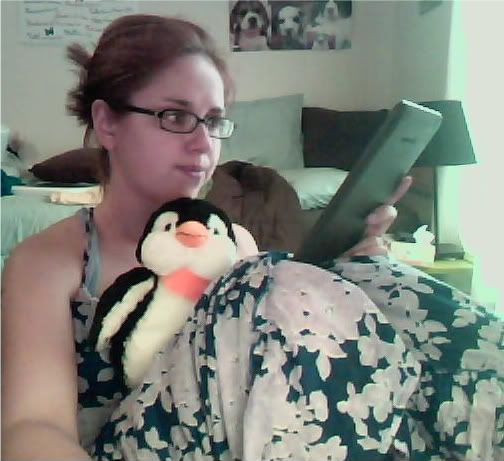 Oliver and I
I talked about the awesomeness that is the
Wallflower series by Lisa Kleypas
in a previous post. The Hathaway series is set in the same universe, and some of the same characters appear, but you don't necessarily need to read one series before the other. If possible, I like the Hathaway series even more than the Wallflowers.
Except of course for the pairings, the following reviews shall be spoiler free.
In short, this is a series about the Hathaway family, a rather quirky bunch. The time period is somewhere between 1830 and 1850 I believe. With both parents dead, all five siblings (four girls, one boy) are left to fend for themselves. When the brother, Leo, unexpectedly inherits a title and the land that goes with it, the family is thrown into a new lifestyle and new society.
Book One: Mine Til Midnight
: Self declared spinster and mother hen of the family, Amelia Hathaway, finds herself in the arms of the wealthy half-gypsy Cam. If that sentence alone doesn't sell you on this book, let me say that this is one of my absolute favorite books, period. It's an opposites attract pairing. Cam is extremely sexy and mysterious. Amelia is a strong, admirable character who many women can probably relate to. Plus, you get to meet the rest of the Hathaways and get your first glimpse and all of their delightful madness. 5 stars.
Book Two: Seduce Me at Sunrise
: Now, this was probably the weakest in the series for me. The heroine, Win Hathaway, has spent a lot of her life in frail health. Even though she's much recovered, everyone including our hero Merripen, treat her with a lot of delicacy. I'm not overly fond of fragile heroines. Still, it's emotional and romantic. It has a very strong hero, and I did connect to his emotional journey. 3 stars.
Book Three: Tempt Me at Twilight
: Poppy Hathaway is basically trapped into marrying the stern hotelier Harry Rutledge. A good portion of the book takes place in the hotel, where to Harry's dismay Poppy befriends everyone from cook to messenger. I liked that Poppy was such a friendly heroine. I thought she and Harry were an excellent match. 4 stars.
Book Four: Married by Morning
: In some ways this is your typical reformed rake (Leo) meets uptight spinster (Cat) romance. But it has enough uniqueness to keep things interesting. Leo has a pretty valid reason for his rakish behavior, and has already begun to pull himself together by the time Cat arrives. Cat is the governess for the younger Hathaway girls, and she has valid reasons for being pinned up. The two are remarkably cut together. 4.5 stars
Book Five: Love in the Afternoon
: Beatrix agrees to help her friend Pru write letters to her betrothed, Christoper, who is at war in France. Bea ends up writing the letters herself after Pru loses interest, and through the exchange she and Christopher fall in love--without him realizing her true identity. Letters and journals are a favorite story-telling device of mine. Added to this Bea is my favorite Hathaway girl, with her love of animals and her lively spirit. This book is particularly delightful. 5 stars.
Final thoughts: If you like historical romance, you should absolutely give these a try. Diverse characters, well paced plots, and a good dose of humor make the Hathaway series a keeper.