Lisa Kleypas writes what I think of as comfortable bedtime books. Light, entertaining, and cheerfully romantic. And since I'm feeling in a historical sort of mood, I thought I'd offer my condensed opinions of her Wallflower quartet.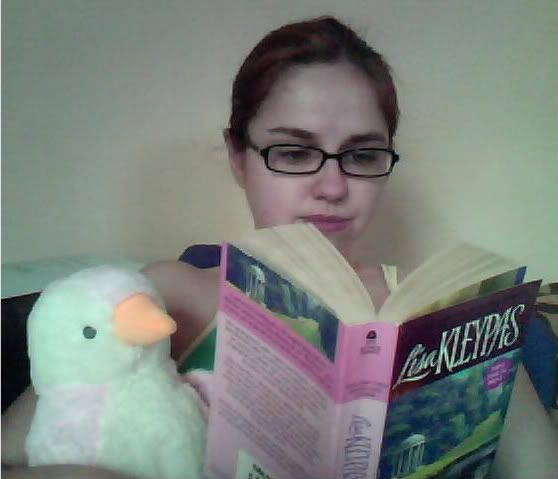 Petunia likes Scanal in Spring the best, but I think she's biased toward the pink cover.
In these books, four young women find themselves to be social misfits for one reason or another. Tired of never being asked to dance and each in desperate want of a husband, they decide to ban together to help one another. The strength of these books is the friendship between the women. I think in real life every woman either has friends like these, or wishes she did. And in the world of romance where heroes so often steal the show, it's nice to see a few female centered books.
Book 1: Secret of a Summer Night
: Annabel's family is in financial ruins and she particularly wants to marry a rich nobleman. Her primary romantic pursuer is Simon Hunt, a wealthy
businessman
who she finds entirely unsuitable. Without spoiling, I'll just say that I at first I worried that Annabel would be unlikeable because of her prejudices. Fortunately she grows a lot with the help of her friends. Both Annabell and Simon have interesting back-stories. The romance is reasonably satisfying. And of course, the women and their antics are endlessly amusing. 4.5 stars.
Book 2: It Happened One Autumn
: Lillian comes from an American family possessing a large fortune but lacking ties to the nobility. She has few of the social graces prized England's most elite bachelors. Marcus Westcliff is one such bachelor who finds himself coveting Lillian against his better judgement. Lillian is easily my favorite heroine in the series because she has such a bold personality. Westcliff's personality comes off as a bit generic, but he's still likeable. I loved the setting of this book. I loved the pace and process of the developing relationship. 4 stars.
Book 3: Devil in Winter
: Shy, socially awkward Eve enters into a marriage of convenience with the somewhat villainous rake Sebastian St. Vincent. Even his name is villainy. The plot of this one is pretty cliched, and the pace is slow, but it's still entertaining. Eve is probably the driest of the heroines, even if she does develop a lot. I love St. Vincent, and he really saved the book for me. The other wallflowers have a smaller role in this book, which I found kind of disappointing. 3.5 stars.
Book 4: Scandal in Spring
: Daisy, a romantic and fanciful woman, is the last wallflower left unwed. Her father threatens to make her marry his pragmatic and ambitious business associate, Matthew Swift. I'm a sucker for the opposites attract kind of romance. My only real complaint was that Matthew's past tragedies and the way they fit into the plot don't mesh all that smoothly. 4.5 stars.
Overall, this is a very good little mini-series of books if your in the mood for a something gentle and intellectually undemanding. I also recommend the Hathaway books, which are set in the same universe and come chronologically after the Wallflowers. I may be reviewing those at a later date. Happy Reading!